-------------------------------------------------------------------------------------------------------------------------------------------------------------------------------------------------------------------------------------------


Top Folk Bands playing for your pleasure
Gigs in 2019
______________________________________________________________________________________________________________________________________________
Friday 18 January 2019 - The Sorries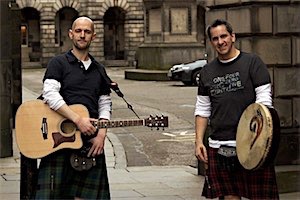 Fully Booked - sorry, all 100 seats taken!
THE SORRIES are Douglas Kay (vocals, guitar, bodhran, mandolin) and Martin Philip (vocals, guitar, bodhran, tres). The duo sing, play and banter their way through a show which features a host of traditional tunes from the much-loved Scottish songbook, as well as some songs gathered from the oral tradition and a few original compositions.
The two formed The Sorries following a conversation during a tour of the Highlands where both Martin and Douglas were performing as part of separate projects. Coming from very different musical backgrounds, Kay and Philip discovered a shared love for the music of The Corries. Over a bottle of whisky they decided that the duo is still an ideal format in which to present so many of the sensational folk songs in which Scotland is so rich.
The Sorries made their live debut in Edinburgh during December 2006 and during the next three years moved from the pubs of Edinburgh to playing sell-out shows in locations as diverse as Lossiemouth's Warehouse Theatre, Coldingham Village Hall, Aberdeen's Lemon Tree and the Isle of Eigg Community Hall. 2009 saw the duo complete a successful three week run at the Edinburgh Festival Fringe, during which they played to packed audiences and garnered attention from the national press. That first Fringe run was the start of an annual engagement which has continued ever since; it also saw the release of their eponymous debut album.
In 2017 The Sorries ventured south of The Border to play a three-date run at the Brighton Fringe. The notion that there was an appetite for traditional Scottish music outwith Scotland was confirmed by the reaction of those who saw them play on England's south coast, with audience members expressing huge enthusiasm for the music and a real interest in the background to the songs.

Edinburgh Fringe audiences have continued to increase and August 2017 saw The Sorries complete their most successful Fringe run to date, playing to well in excess of a thousand people from all parts of the globe. Publications which have featured enthusiastic reviews and commentary on the duo's shows range from Three Weeks and Edinburgh Spotlight, through to The Herald and The Financial Times. Their lively audiences in August have included Bill Hill (who wrote songs such as The Portree Kid) and original member of The Corries, Ronnie Browne. Ronnie was later kind enough to give The Sorries a very positive plug at the Book Festival launch of his autobiography That Guy Fae The Corries, so it seems neither Bill Hill nor Ronnie Browne were purely in the audience to keep an eye on their copyrights…
The Sorries' fourth album, Live at the Fringe, captured some of the energy and excitement of the Edinburgh shows and offered audiences an alternative style of Sorries album before the pair returned to a studio setting for their most recent offering, Bends of the Bow.
Press:
"Deliciously infectious…this show is riotous fun that affirms just how alive Scottish folk music is." ***** Three Weeks
"Authentic, lively and hugely, hugely enjoyable." ***** Broadway Baby
"A must for lovers of Scots songs." **** Edinburgh Spotlight
"Songs both rousing and reflective… entertainingly true to a noble, public-figure-swatting tradition." The Herald
_________________________________________________________________________________________________________
Friday 1 February 2019 - Coaltown Daisies
Sorry Folks - Fully Booked


The
Coaltown Daisies
'Best Folk Performance' winners The
Coaltown Daisies
are a rising duo of singer songwriters who write and perform folk, soul and americana music. Detailing their music with dual harmonies, intelligent lyrics and raw emotion they are described as 'spell-binding' and 'breath-taking.
The Coaltown Daisies are:

Vivienne Bern
​
Vocals, guitar, ukulele, percussion, writer, composer, arranger, producer.
Head official of stage management and technical engineering wizard. Eater of olives, drinker of whisky and lover of double-entendres.
&

Lynzy Moutter
Vocals, guitar, ukulele, percussion, writer, composer, arranger, producer.
Chief booker of performances and tours and social media manager extraordinaire. Eater of pizza, drinker of beer and lover of creativity.
_________________________________________________________________________________________________________
Friday 15 February 2019 - Kenny Speirs & Eilidh Grant
Kenny Speirs has been a well-known figure on the national and international folk circuit for over twenty five years ever since the John Wright Band burst onto the scene in the early nineties. From his beloved homeland of the Scottish Borders the band propelled Kenny from the pubs and clubs of his local area to some of the biggest festival stages throughout the U.K. and Europe. Turning professional in 1995, Kenny released seven albums with the JWB, earning a deserved reputation as a sensitive guitarist, singer and arranger, also finding time to release two solo albums to wide critical acclaim.
Kenny is also one of the leading figures of the Borders folk scene, from his early days reforming Peebles Folk Club and presenting the weekly folk programme on Radio Borders to the founding of Denholm Folk Club in 1993 which he still runs today. He is also Director of Denholm Folk Festival and the Scottish Borders Hogmanay Festival, The Land The Light The Locals.
Since losing his late partner Judy Dinning, Kenny decided to carry on with Real Time, and the band continues to enjoy huge success with Eilidh Grant taking on the main singing duties. It is only now, after a very emotional period of reflection, that Kenny has been inspired to write and release his first solo CD of wholly self-penned songs.
Eilidh's stunning voice beautifully renders both classic folk songs and original material. With a love for traditional and contemporary folk alike, underpinned by a passion for Burns, Eilidh has made a considerable impression on the British and European folk scenes. Her vocal style, with shades of a Caledonian Joni Mitchell, won her the Danny Kyle Award at the 2004 Celtic Connections festival. Her first solo gig was at the Star Folk Club in Glasgow and since then has gone on to perform at some of the best venues in the country and has shared the stage with some of the best and most well known musicians of today.
_______________________________________________________________________________________________________
Friday 15 March 2019 -Mak-A-Din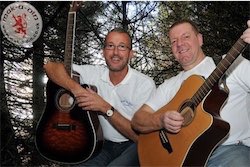 Mak-a-din are a lively Scottish & Irish folk duo. Gordon & Davy, who are both from Grangemouth, have been together for almost 3 years now after playing with other bands & duo's. They believe in giving the audience what they want to hear. Their gigs tend to be a mixed night of Scottish / Irish & contemporary music
Gordon was born in Falkirk and his first singing and band partner Robert taught him the basics of the guitar. He went on to teach himself and within the first year Robert and Gordon had their first gig in the 'Vic Inn' Carronshore. They went on to form the band 'The Shoresmen' and had many gigs together but split up 5 or 6 years later. He went on to form a band Avonstray and a duo called Ereskybefore forming Mak-A-Din with Davy.

Davy was also born in Falkirk. His biggest influence was John Day, a fantastic accordionist and pianist whom he worked with for many years. His good friend Archie McDougall taught him the basics of the guitar and for the past 31 years he has given him invaluable support. He has played with many bands over the years including Ocean Drive, Harlequin and after years of playing club/cabaret music he decided to follow his patriotic heart and started playing what he always wanted to play, Scottish folk music. In November 2007 he teamed up with Gordon, forming Mak-A-Din.
_________________________________________________________________________________________________________
Friday 26 April 2019 - 'Auld Hat - New Heids'
In early 2016 our show/band/showband, "Auld Hat - New Heids" was but a twinkle in its daddy's eye. Many people were mourning the passing of the 'fun' days of the Scottish Folk Scene of the 1960's/70's, when practically every town of any size had a thriving folk club packed with people laughing, having fun and singing along to the chorus songs popular at the time.

Personally, I love nothing better than sitting in a crowd, singing their hearts out. As such, I thought it would be a good idea to try and recreate those days but in theatre/ festival venues and involving top quality musicians familiar and equal to the high standard of younger musicians currently on the 'scene'.

Our show brings back many of the old favourites.

Songs, not forgotten but these days rarely aired are delivered with the cheeky but passionate ways of my little brother and me (Fraser & Ian Bruce).

Our virtuosos Pete Clark (fiddle) and Gregor Lowrey (accordion) are simply stunning instrumentalists......and singers!!!

And all this to a slideshow backdrop of some of the characters dead and alive who drove the Scottish Folk scene in the second half of the twentieth century.

So. One year on, February 2017, we have already played many of the major Scottish theatres. Return visits are already in the diary and following a particularly successful Celtic Connections concert on 29th January 2017, many more prestigious venues have been in touch.

We're ecstatic at the response. Thank you everyone.
​
Fraser Bruce
_________________________________________________________________________________________________________
Please note change of date from Friday 17th to Friday 10th May
Friday 10 May 2019 at 8.00pm -
John Graham, Jim Jack and Cy Jack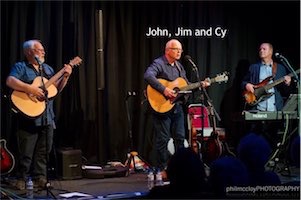 John Graham (Guitar, Fiddle, Mandolin, Bouzouki, Vocals)
John started playing Folk Music in the 1960's. He served as president of Glasgow University Folksong Club. In 1968 he founded the 'Clydesiders' along with Sandy Kelso and Campbell Forrest.
The band remained active for over 30 years, albeit with a number of personnel changes, until 2000, with John and Sandy still at the helm.
During their career the band made a number of albums for Scottish Record companies Lismor, KRL and REL. They appeared regularly on TV and Radio including such programmes as STV's Thingummyjig and Shindig, Highway with Harry Secombe, and the Terry Wogan Show.
In the eighties they appeared annually in the stage show 'The Pride of the Clyde' at the Kings Theatre Glasgow.
Initially the fiddler with the band John developed into a multi-instrumentalist on Fiddle, Mandolin, Guitar and Bass Guitar. He also shared the vocal duties.
In 2012 the band staged a reunion concert at the 'Fintry Music Festival' and brought out a new album 'Scottish Folk Songs of the West' on the Scotdisc label in 2013.
In addition to his duo work with Jim, John has worked as a session musician most recently on the latest album by the 'Ian Walker Band', 'Just One More Chorus and plays in a number of bands including 'The Grouchos' and 'The Fogartys'
John and Jim are joined by Cy Jack.
______________________________________________________________________________________________________
Friday 7 June 2019 - North Sea Gas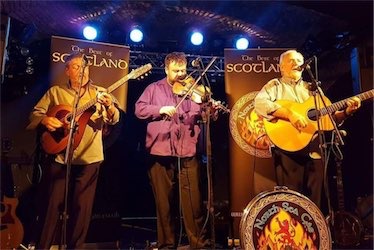 North Sea Gas: Ronnie MacDonald, Grant Simpson and Dave Gilfillan.
Over thirty-six years and stronger than ever!! "North Sea Gas" is one of Scotland's most popular folk bands with great vocals and tremendous three part harmonies. Guitars, Mandolin, Fiddle, Bouzouki, Harmonica, Whistles, Bodhrans, Banjo and good humour are all part of the entertainment.
They have received Gold and Silver Disc awards from the Scottish Music Industry Association and regularly have sold out shows at the Edinburgh Festival Fringe!!
_________________________________________________________________________________________________________
Friday 20 September 2019 - Pure Malt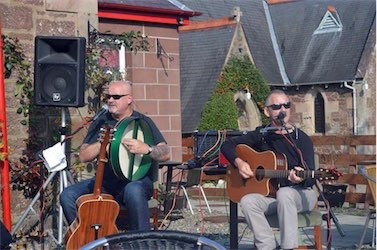 In 1984 Gordon McDiarmid and wee brother Tam started off their folk singing days in local clubs and pubs.
In 2002 Pure Malt were regular performers at the Blackness Inn, and took stage on occasion for the monthly folk concerts. At the jam sessions there they met up with Tam Clark who would join them for the occasional song or two during their gigs. Big Tam, or TC as he is known to 'the following', had much to offer by way of bodhran, natural vocal harmonies and charismatic banter, and jelled well in the group, bringing with him his own love of bothy ballads and Burns Suppers. And so, Pure Malt were three! The gigs continued and their following increased.
In 2006, at the Bridge End in Callander, they met up with a Lothian lad, Chas McLeod, who gradually over the months increased input into the band with 'moothie', then bodhran, penny whistle and now bass guitar. A talented lad, he's currently mastering the banjo.
Pure Malt has grown in stature, talent and professionalism and their own blend of music is well-liked and much sought after around the country. So - for the future – the boys have much to offer the folk scene with their traditional Scottish and Irish songs and their more contemporary ballads, and this will be evident given a night with Pure Malt.

_________________________________________________________________________________________________________
Friday 18 October 2019 -
Yard of Ale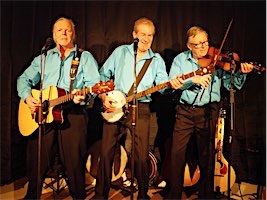 Yard Of Ale: Alistair McDougald, vocals, guitar, banjo, and percussion; Peter Gillan
, vocals, guitar, mandolin, harmonicas and percussion;
Walter Mowat,
vocals, guitar, mandolin, fiddle and percussion.
Formed in 1973, Yard Of Ale are well established for their mixture of styles and their varied repertoire. Regarded as a complete entertainment package, Scotland's favourite folk n' fun band perform a great mixture of folk, country, traditional and contemporary music with plenty of close harmony and cheeky banter. Guitars, banjos, mandolins, fiddle, harmonicas, bodhrans, washboards and kazoos, in fact anything they can rattle a good tune or rhythm out of is pressed into service
The band have recorded 3 CD albums and are featured regularly on many local, national and international radio stations.
Their music was also featured in Irving Welsh's film "Ecstasy"

.
______________________________________________________________________________________________________________________________________________________________
Please note change of date from Friday 15 November to Friday 22 November
Friday 22 November 2019 - Tarneybackle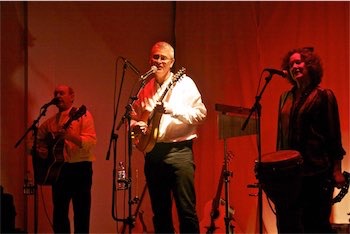 The group's material is mostly from the Scottish tradition and is a blend of strong vocal harmonies with a wide range of instruments.
The trio's interpretation and presentation of Scots song has brought them praise from reviewers, and a growing fan base from their extensive live performances and radio work.
Tarneybackle has released six albums to date:
"Tullibardine" (sold out) "Distant Dreams" "The Diamond"
"Winds of Freedom", "Looking Out" and "Singing Land"
Tarneybackle's albums have been broadcast on many radio stations at home and abroad, including Radio Scotland, Radio Tay, Moray Firth Radio, Two Lochs Radio, KPFZ and Zoomer Radio.
Reviews "The enjoyment is infectious" – The Scots Magazine "One of the best folk-based acts in Scotland" – Perthshire Advertiser
"I reverently suggest they be short-listed for a possible future "Sultans of Trad" award." – FolkWorld
Orkney Folk Festival Reviews - "Tarneybackle gave a full-sounding and genuine performance.......kept the audience entertained between songs with humorous banter for good measure."
"fusion of traditional and contemporary folk, with strong vocals from John Davidson intensifying the performance."
_________________________________________________________________________________________________________
Friday 6 December 2019 - On the Wagon

On The Wagon is a ceilidh/folk band that specialises in Scottish/Irish folk music and its own arrangements of country and blues.
The instrumental lineup includes guitars, mandolin, keyboards, harmonicas, accordions, bass pedals, percussion, Bouzoukis, small and big pipes, whistles including low D, ukeleles, banjo, with Derek & Ken providing the main vocals.

Some examples of our music can be found below.

We play clubs, pubs, festivals, hotels, Conference Centres (Edinburgh & Glasgow) and for Corporate events up and down the country. We travel; to Denmark, Germany, Ireland, Belgium and Luxemburg and the Channel Islands.
We have lots of original material as well as our own arrangements of well recognised material. We are very comfortable in concert venues, weddings, ceilidhs folk clubs and family occasions.