First class folk in Fife!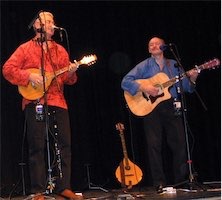 Tarneybackle
Friday 8th December, 8 p.m.,

Hugo's Café Bar Pavilion

Regent's Way, Dalgety Bay, Fife. KY11 9YD
Welcome! Thanks for looking us up. We are always happy to greet members and new friends.
We have a culture of respect for the artists and kindly ask that conversations are kept to the intervals.

Please see our Gigs page for the programme of artists appearing at the club.

Book tickets via our booking page.

We look forward to welcoming you.

Follow us on Facebook and Instagram - @dbfolkclub